Farrington Mourino Professorship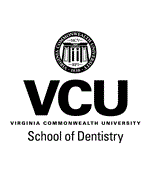 Dr. Carl O. Atkins Jr. (D.D.S. '83; Cert. '85) says he thought long and hard about making a donation to the VCU School of Dentistry, especially when Dr. Tegwyn H. Brickhouse, Ph.D., former chair of the school's Department of Pediatric Dentistry, asked members of the VCU Pediatric Dentistry Board of Advisors for support.
"Given the contributions of Dr. Frank Farrington and Dr. Arthur Mourino to the pediatric specialty and the VCU School of Dentistry itself, I thought we needed a way to honor them," Atkins said. "They were mentors of mine until they retired in the early 2000s. They influenced most of the dental student body at large, including me.
In 2012, Atkins pledged $50,000 to establish the VCU School of Dentistry's Frank H. Farrington, D.D.S. and Arthur P. Mourino, D.D.S., Fund in Pediatric Dentistry to advance the specialty of pediatric dentistry and to improve children's oral health in Virginia. By doing so, he set an example for others to follow.
Dr. Randy Adams (Cert. '80) accepted the challenge and matched Atkins with a $50,000 pledge of his own.
"I thought it was a great idea. Since I was in VCU's first class of pediatric dentistry and I fully support the program, I thought I needed to step up," he said. "My dental career has definitely been aided by Farrington and Mourino. What I am today as a dentist is because of them. I owe them a lot."
Atkins was "pleasantly surprised" when Adams made his pledge.
"When I told Randy what I was going to be doing to support the department in honor of our mentors, he said, 'I think I can do that.' I was touched and honored by his gift," Atkins said.
Gifts from alumni, colleagues and friends created what is now an endowed professorship, which is key to the recruitment and retention of top-notch faculty according to Dr. David C. Sarrett, dean of the VCU School of Dentistry.
"Drs. Mourino and Farrington were role models for all of the residents who became pediatric dentists like Carl Atkins and Randy Adams," says Sarrett. "I can think of better role models to honor."